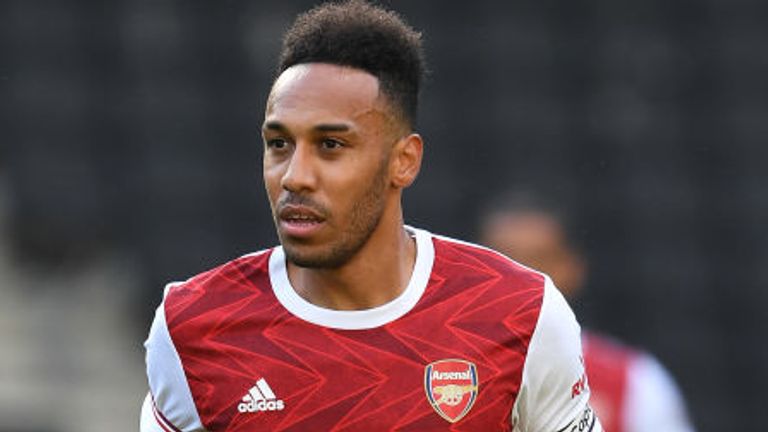 Mikel Arteta says Arsenal fans can feel "pretty relaxed" about Pierre-Emerick Aubameyang's future.
The 31-year-old's contract expires at the end of the 2020/21 season but Arteta is confident he will sign a new deal.
"I can say I am even more confident than I was at the end of last season," said the Arsenal manager.
"Do I think it will be done soon? I am really optimistic, yes."
Arteta says Aubameyang's strike partner Alexandre Lacazette is also set to stay following talks with the club.
"He is really happy here," said Arteta. "He wants to keep improving and contributing to the team. I know how good he is and the impact he's having.
"He knows about the competition he has as well with the front players. He needs to demand himself to be the best striker at this football club, the same as the rest. He was very happy to hear that.
"The way he has been training and conducting himself has been excellent."
Arsenal have signed Willian and Gabriel but Arteta insists their transfer business is far from complete.
Arsenal major ins and outs so far
In
Pablo Mari – Flamengo, undisclosed
Cedric Soares – Southampton, undisclosed
Willian – Chelsea, free transfer
Gabriel Magalhaes – Lille, £27m
Dani Ceballos – Real Madrid, loan

Out
Henrikh Mkhitaryan – Roma, free
Sam Greenwood – Leeds, undisclosed
"We are still active in the market," said Arteta. "We are looking at the different options.
"We are active for ins and outs. At the moment the squad balance is not ideal. There is still some work to do.
"We have to bear in mind the complexity of this transfer market. Clubs are behaving in many different ways and it is very uncertain how this is going to evolve in the next few weeks.
"In what way are we imbalanced? Numbers-wise, some positions are overbooked. Others in terms of the specific qualities that we need, they are still not there.
"It is going to be very difficult to achieve what we want in one or two windows. It's a process, it has to be evolving and most important, it has to be a sustainable model that we can consistently feed into using our academy players."
Arsenal are still likely to move some players on before the deadline, but Arteta would not be drawn on the future of goalkeeper Emiliano Martinez. Aston Villa and Schalke are among the clubs interested in the Argentine.
Source: Skysports